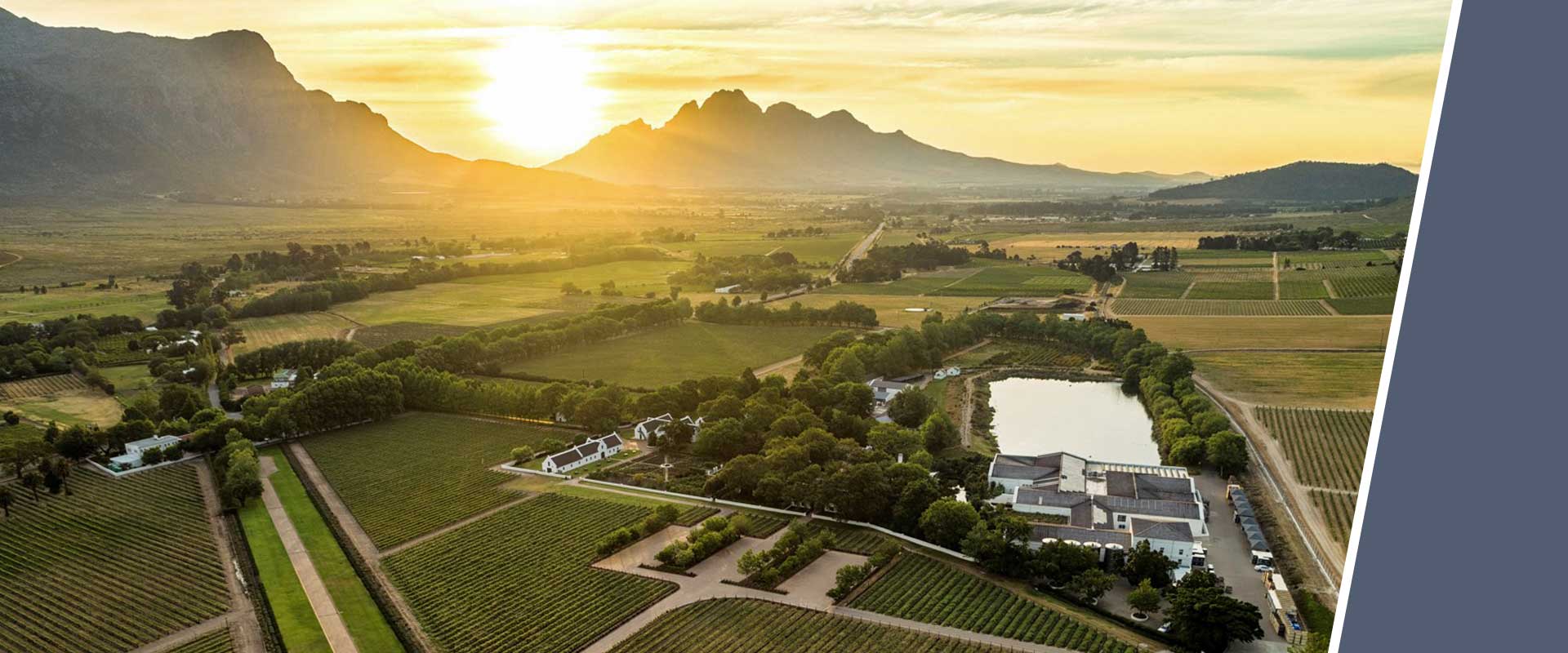 Franschhoek – culinary delights in a picturesque setting
Nestled in picturesque mountains and lush vineyards, this charming valley is a true paradise for wine lovers: an exciting history, award-winning wines and culinary delights will tantalise your senses. Experience warm hospitality and unforgettable wine tastings at world-renowned wineries. Let yourself be enchanted by the beauty and elegance of Franschhoek – for unforgettable moments in the midst of South Africa's wine idyll. Welcome to Franschhoek, where passion for wine meets breathtaking scenery.
Franschhoek - Follow the Footsteps of the Huguenots
The Franschhoek Wine Route allows visitors to follow the footsteps of the French immigrants and their still noticeable influence on the Winelands. The South African Franschhoek is well-known for its high-quality wines and only 60km away from Cape Town.
Franschhoek means 'corner of the French' or 'French corner'. Over 300 years ago, French Huguenots fled from their home country to South Africa and settled in the land that is now called Franschhoek Valley. The first settlement was founded by them in 1688. They brought their expertise about wine cultivation and development and did what they can do best: produce excellent wine. Until today, their descendants create excellent bottles, amongst them outstanding sparkling wines which entice gourmets worldwide.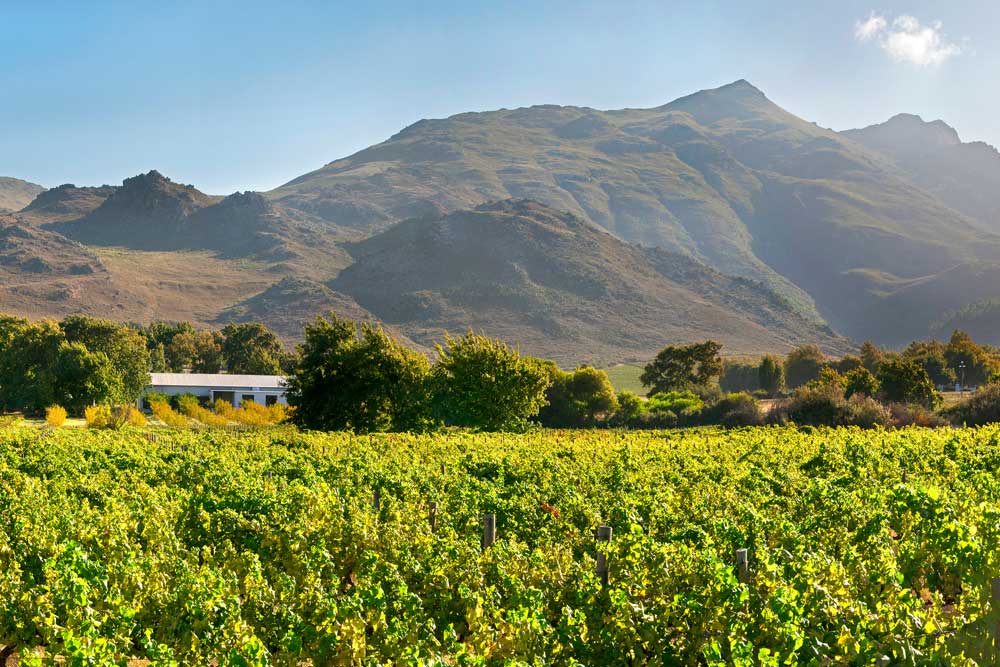 The diversity of the Franschhoek Wine Route
On the Franschhoek Wine Route, gourmets can find more than 30 wineries, amongst them the most respectable names of the South African wine industry. Many of the wineries are still carrying their French names and you literally feel like you would be in the Provence. Here, culinary delights and a way of life typical only for the French come together. And all that paired with South African hospitality!
This makes the Franschhoek Wine Route an excellent choice if you look for original South African wine. All traditional wines are cultivated: white wines such as Sauvignon Blanc and Chardonnay and red wines such as Shiraz, Pinotage and Cabernet Sauvignon. Many of the wines have numerously been awarded at significant, international wine competitions.
Franschhoek South Africa Delivers Top Class Wine
Franschhoek South Africa has ideal conditions for cultivating wine. No wonder that the local winemakers there, and in the whole of South Africa, specialise in premium wine. Almost every Franschhoek winery received numerous international awards. The winemakers specifically cultivate noble grapes and use gentle cellar techniques to produce absolute top class wines. Franschhoek South Africa therefore became a top address for high quality wine.
Franschhoek South Africa is the 'Frankophile' Area
Franschhoek South Africa means 'South Africa's French corner'. In the 17th century, Huguenots settled there and brought with them their traditions and skills, including the cultivation of wine. Franschhoek South Africa offers a spectacular wine route with over 20 yards. The only problem for a visitor is to choose, as every Franschhoek winery is worth a trip, for example Grande Provence, Vrede en Lust, La Motte or Allée Bleue. Yet, this is one of the more pleasant problems for a wine lover.
Buy Franschhoek South Africa Wine Online
YFind Franschhoek South Africa wine in our South Africa wine online shop. Have a look around our great range and discover the variety of the wines from the Cape, or wine from South Africa. We not only have several Franschhoek wineries, you can also find a great range of Africa wine, such as Constantia wine, Stellenbosch wine and Paarl wine. No matter if you want to get an overview of New World wine or search specifically for a certain South Africa winery, we surely have the right bottle for you. Franschhoek South Africa is a central element of our portfolio, as many wine lovers swear by their favourite Franschhoek winery. Not without good reason, as we think.

The Wineries of the Franschhoek Wine Route
21 wineries have teamed up for the 'Vignerons De Franschhoek Valley' and form the Franschhoek Wine Route. Estates such as Allée Bleue, Vrede en Lust, Anthonij Rupert, Grande Provence, La Motte, Haute Cabrière and Chamonix are part of it.
The winery La Motte, founded in 1695, offers an excellent cuisine in the beautiful restaurant Pierneef à La Motte besides numerous historic buildings and outstanding wine tastings. The wines receive their unique character through the special soils of the winery.

The Leopard's Leap winery makes every connoisseur's heart beat faster with accessible and elegant wines. The creations of the Culinaria Collection are excellent food companions. Visitors can also see this for themselves during wine and food pairing.
Besides excellent wines, Chamonix bottles outstanding and natural spring water from a close-by spring. The wine tastings take place in a converted forge. In the on-site restaurant Arkeste, guests can treat themselves to the fullest with exquisite dishes and excellent wines.
The winemaker Achim von Arnim manages the winery Haute Cabriére in his unconvential way and is very successful doing so. He creates outstanding sparkling wine. One of the main attractions is for sure the exquisite restaurant which allows an unrestricted view over Franschhoek.
Allée Bleue is one of the oldest wineries of this region but manages to unite traditions with innovation in an incomparable manner and is well-known for its excellent premium wines with that certain something. Something which is difficult to describe – you simply have to try the wines!
Grande Provence can look back on a long history and has been producing overall excellent wines since its founding in 1694. The flagship wine "The Grande Provence" is a full-bodied and perfect balanced red blend.
The location of Vrede en Lust at the slopes of the Simonsberg Mountain creates ideal conditions for wine cultivation. The nutritious soils and the ideal climate ensure the production of top wines. Just as the name suggests, the wines are created with lots of passion here on this estate. A passion which is mirrored in the cordial atmosphere at Vrede en Lust.
Thanks to a wide variety of growing areas, the Anthonij Rupert estate offers ideal conditions for different grape varieties and delights every wine lover with its excellent and multi-faceted creations - including the red wine blend called Optima.
One of the smaller wineries is Lynx. Here, with great dedication, unique wines with a fruity character are created, which skilfully reflect their terroir. Sustainability plays an important role on the estate, both in terms of nature conservation and social issues.
Eikehof is a small but fine family winery, which has been run by the Malherbe family for four generations. Visitors appreciate above all the beautiful atmosphere and the warm hospitality - and of course the excellent wines.
Picturesquely nestled in the hills of the Dassenberg Mountains on one side and the Franschhoek River on the other, the traditional boutique winery Rickety Bridge delights with its first-class wines.
Franschhoek in a glass - this is what the multi-faceted wines of Mont Rochelle offer, which are both accessible and elegant. Each grape variety is given the best suitable plantation location and the grapes deliver world-class wines.
Good food, a 5-star hotel and great wines - Holden Manz offers at least three good reasons for a visit. The Franschhoek Kitchen restaurant serves delicacies made from local produce and the Country House is a great place to stay.
The Plaisir de Merle wine estate offers French flair at the Cape, because the French influences are still noticeable on the estate today. The name means something like "great joy" – and that is what the fruit-driven, spicy and complex wines are.