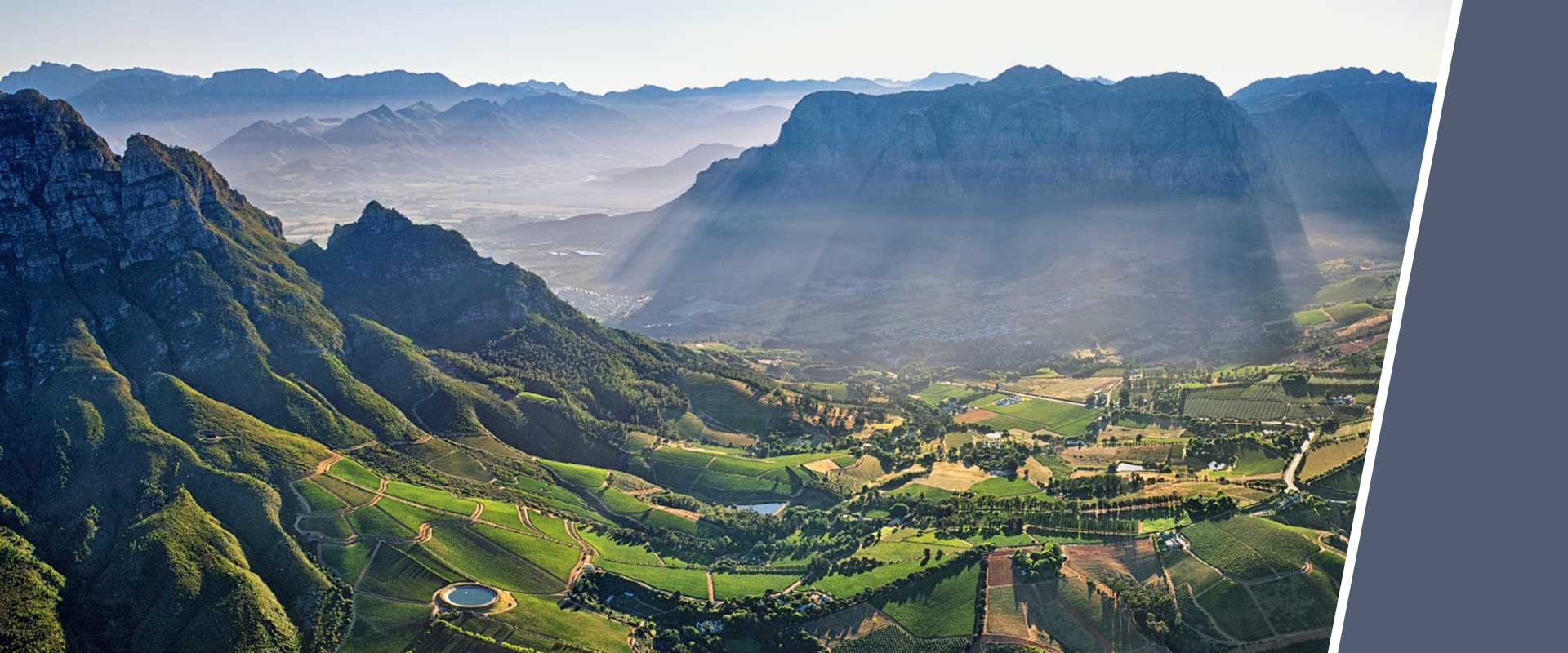 Wine Districts and Boroughs in South Africa
South Africa is constituted by many wine districts and boroughs - too many to name them all. For premium wines, Stellenbosch and Paarl are the most important districts. Both have a great geographical variety and favourable conditions for wine cultivation. The borough Franschhoek within Paarl is considered to be the centre for high class wine from the grape variety Sémillon.
Stellenbosch – Premium Wines of a Great Variety
Stellenbosch is the oldest wine growing region in South Africa. From the beginning, the local wine growers have paid attention to a high quality. Every region presses its own, distinctive wine – here South African wine has a very special touch. Despite the high concentration of premium products, Stellenbosch also houses the wholesaler Distell, which stands for high yields and products for the masses. This variety is mirrored in the district's geography. In the valleys and on the river banks, there is sandy up to clayey soil, whereas the mountain slopes have water-storing granite soil. The fresh breeze from the Atlantic makes for the required cooling. It is also called Cape Doctor, due to its ability to keep away diseases and pest from the plants with its fresh air. Most wine growers pay attention to quality which is why the district creates smaller yields than wine growing regions similar to Stellenbosch's size. Stellenbosch is known for Cabernet Sauvignon, Merlot, Shiraz and Pinotage yet also good Chardonnay and Sauvignon Blanc derive from here. Famous wineries are for example Delaire Graff, La Motte, Leopard`s Leapand Simonsig.
Paarl Combines Quantity with Quality
The Paarl district is located in South Africa's inland. Even though you could expect intense heat - the Cape Doctor is missing here - there is mild climate. No wonder that Paarl has developed into the second largest district. Winemakers plant their vines on over 17.000 hectares cultivation area. Not least because of that, the KWV, the Ko-operatiewe Wijnbowers Vereniging, has its office here. Similar to Stellenbosch, the area is multifaceted: alluvial soil amongst rivers, sand on the mountain slopes and granite rich clay soil in the open country. Most popular white vines in Paarl are Viognier, Sémillon and Chardonnay. For red wine, winemakers mainly use grapes of the varieties Shiraz, Mourvèdre, Cabernet Sauvignon and Merlot. Younger wineries produce wine ready to be enjoyed; traditional winemakers press long lasting products that win in quality over time. The most famous wineries are Fairview, Babylonstoren, Nederburg.

The Franschhoek Borough with Solms Delta and Vrede en Lust
Franschhoek creates wine with a very unique touch. The borough is located in the southwest of Paarl in a narrow valley and is surrounded by high mountains. Alongside the river Berg there are many wineries yet winemakers have also planted onto the well-situated mountain slopes. The grape Sémillon enjoys great popularity in Franschhoek. It is one of the oldest grape varieties in South Africa; some plants are over 100 years old and still produce fruits. Franschhoek also houses red grapes: Cabernet Sauvignon, Merlot and Shiraz are the most promising ones. One oft he most popular vineyards in Franschhoek is Vrede en Lust.