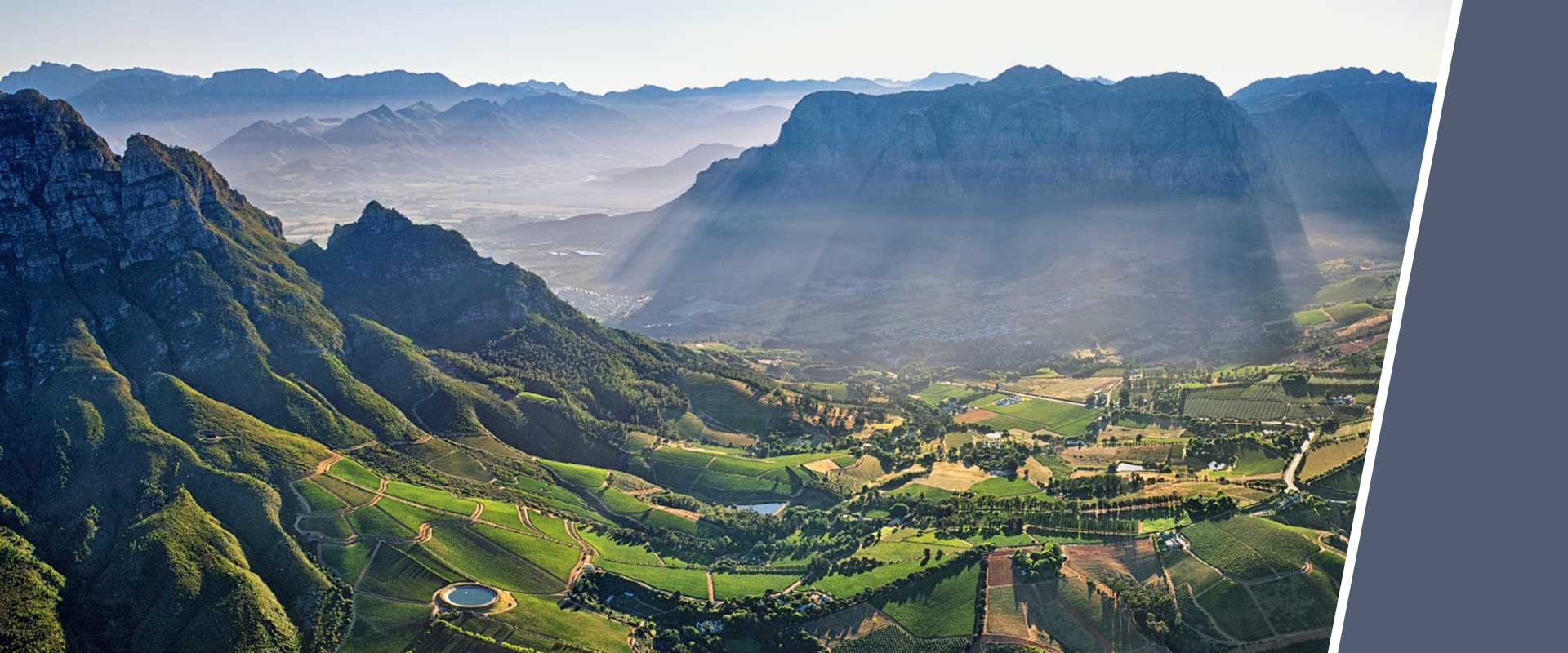 South Africa's four Wine Regions
In South Africa, vines are mainly cultivated in the southwest of the country, as the conditions for wine growing are excellent there. The cold sea breeze makes for the required cooling and the fertile soils on the river banks provide a perfect source of nutrients for the vine plants. Here, the four great wine regions of South Africa are located, which significantly determine the country's wine cultivation.
The Coastal Region – Quality and Prestige
The Coastal Region is the most important region in terms of South Africa's premium wine. No other area hosts that many wineries that concentrate on the quality of their wines. Stellenbosch, Paarl and Franschhoek need to be mentioned first. Stellenbosch and Paarl are especially known for their red wines. The district Constantia starts to relive past successes and is producing the famous Vin de Constance again, true to the original style in a bottle design from the 19th century. The soil of the Coastal Region is very multifaceted yet generally rich in clay. The most famous grapes are Cabernet Sauvignon, Shiraz, Chenin Blanc and Sauvignon Blanc
The Breede River Valley – Premium Wines on the Mountain Slopes
In the Breede River Valley, many vineyards are located in the bank area of the river. Rich soils and high yields have made the region a consumer-oriented supplier for sweet wine. In the wineries higher up the mountains, the winemakers allow the vines enough time to develop fully. Here, some premium wines are bottled. Worcester and Robertson are the largest districts within the Breede River Valley; Robertson has some very promising Sauvignon Blancs in its portfolio. Soils are constituted of slate and limestone. The grapes cultivated the most for red wine are Cabernet Sauvignon and Shiraz, for white wine Chenin Blanc and Colombard.

Little Karoo with Traditional Dessert and Table Wines
Little Karoo is situated in the centre of South Africa. Due to the heat, artificial watering is necessary yet the yields are impressive. Little Karoo is mainly known for its dessert and table wines. In many wineries, the dessert wine is still stamped by feet according to old tradition. Soils mostly contain slate or sandstone. Ruby Cabernet, Shiraz, Colombard as well as Chenin Blanc are the grape varieties that are planted most often.

Olifants River – from Mass Production to Premium Wine
Olifants River is known for its high yield of grapes. The very fertile soil alongside the Olifants enables the winemakers' extensive and dense wine growing. In former times, the region had fallen into disrepute amongst wine connoisseurs due to its focus on pure mass production; yet this opinion is changing currently. Rightly so, as many wine growers pay attention to the wines' quality and accept smaller yields. On the whole, the Olifants River region is still commercially focused, but in many places the winemakers exchange the high sugar content of former days for a balanced fruit aroma.