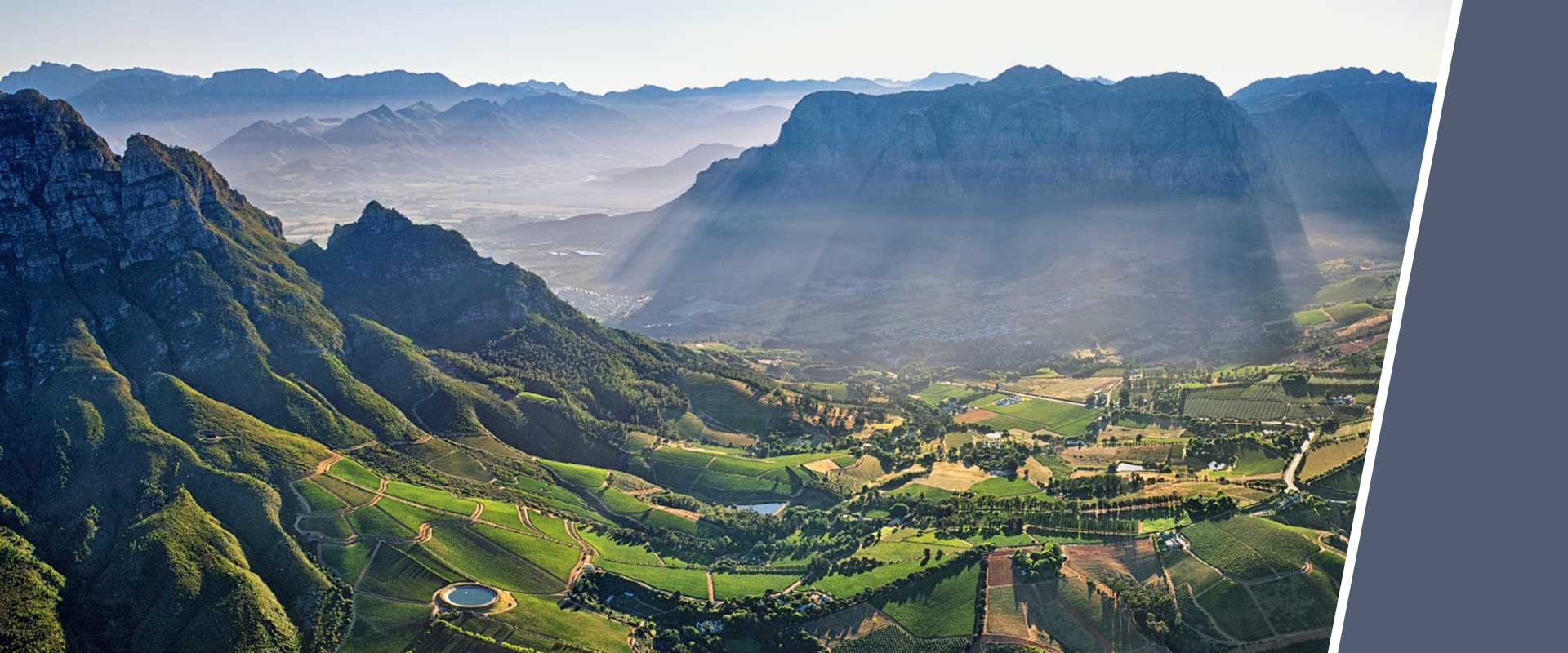 Perfect Climate for Vine Cultivation
South Africa is regarded to be one of the best places to grow premium wines, due to its climatic and geographic situation. In South Africa's vine cultivation areas, there is Maritime up to Mediterranean climate. The Atlantic Ocean in the west and the Indian Ocean in the east make for constant temperature equalization. The breeze from the sea cools in the summer, whilst it warms up the mainland in the winter. The wine regions are partly hilly, and are therefore ideal to grow vines. The sunlight reaches the plants better than in flat land, and the air can circulate well between the vines.
Gentle Season Changes Enable Constant Quality
The maritime climate brings the wine growers in South Africa mild seasons. Winter is pleasantly cool and rainy - the wine plants can recover and regain new strength. The soil absorbs the high level of rainfall and can supply the plants with water during the hot summer months. In spring, the days are mild and sunny. Buds and early fruits can develop uninhibited. The sun shines long and hot during summer yet the wind from southwest and the cold Atlantic air provide the required fresh breeze. These comparatively mild seasons make for a constantly high quality of the yield in wine cultivation, different to Europe, where wine quality is subject to stronger variations.
Premium Wines from Mountain Slopes and Valleys
South Africa's premium wines mainly derive from the Cape peninsula and adjacent regions such as Stellenbosch, Paarl or Franschhoek. Yet it is difficult to determine a mutual characteristic in terms of the soil. Alone in Stellenbosch, there are over 50 different types of soil. In principle, the cultivation territories can be divided into two areas. Most winemakers plant their vine either on mountain slopes or valleys. If one mutual characteristic of the soils needs to be determined though, it would be the high amount of clay. Clay soils consist of clay, sand and mud and belong to the most balanced types of soil. This is another piece of the jigsaw to explain the constantly high quality of the premium wines.