Mont Rochelle - experience and enjoy Franschhoek
Wine has been cultivated on Mont Rochelle since its beginnings in 1688 and it was only a few years ago that the vineyards were replanted to make the multifaceted world-class wines even better. From the accessible Little Rock wines to the Estate Range to the flagships of the Miko collection, all of the winery's creations have one thing in common: they expressively reflect their terroir in Franschhoek.
Vineyards Facts
Founding year

1688

Adress

Mont Rochelle, 1499 Dassenberg Rd, Franschhoek, 7690, South Africa

Acreage

39 hectares

Flagship wine

Miko White, Miko Red

Specials

Picnic, Biking, Hiking, Tennis court, Hotel, Spa, Station of Franschhoek Wine Tram, Miko Restaurant, Restaurant The Country Kitchen

Tasting Room

Daily: 10:00 - 18:00

https://www.virginlimitededition.com/en/mont-rochelle/wines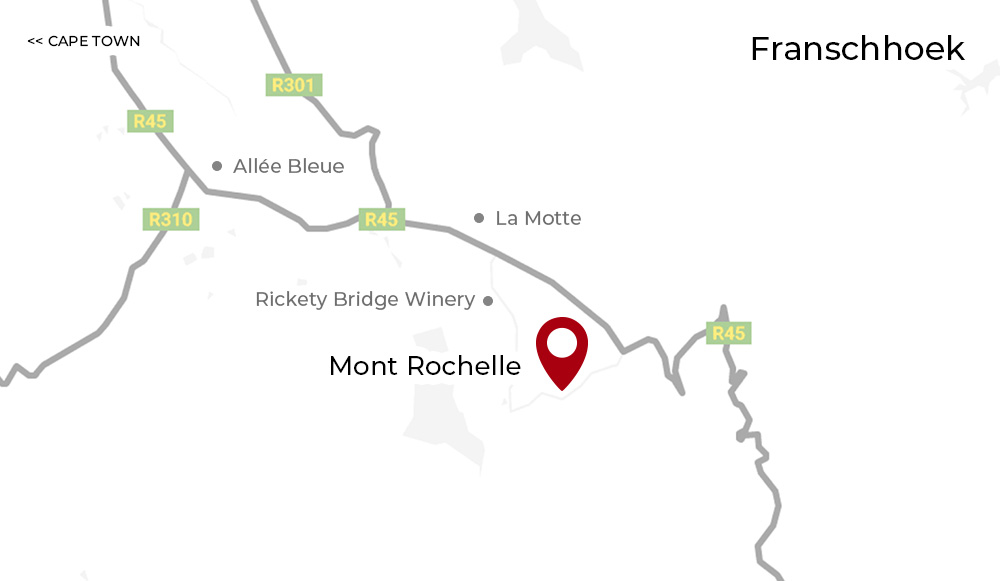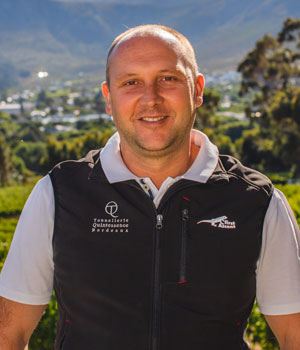 Michael Longhoven
Michael Longhoven has gained experience as a winemaker at home and abroad, having worked on estates in the Cape, France and California. His love for winemaking was awakened in his childhood days, as Michael's great uncle was already an experienced winemaker and Michael grew up near the vineyards. It is the close-to-nature work with the vines and making world-class wines from them that Michael Longhoven considers a privilege. With diplomas in viticulture, cellar technology and viticulture as well as wine business management, Michael Longhoven can look back on a career that has now spanned 17 years and is still proud of his first double gold medal, which he won at the Veritas Wine Awards, one of South Africa's most coveted wine competitions.
Enjoy the Mont Rochelle wines with the most beautiful surroundings
Wines from Mont Rochelle are produced in small quantities and of particularly high quality. The beautiful vineyards border to the Mont Rochelle estate in the Franschhoek valley and are mainly planted with the grape varieties Sauvignon Blanc, Chardonnay, Syrah and Cabernet Sauvignon. Dry summers and rainy winters with a cool breeze allow the grapes to ripen particularly well and produce fruity white wines and full-bodied red wines. The two noble flagship wines of Mont Rochelle are the "Miko Red" and the "Miko White". These premium wines are only produced in the best years from excellent grapes. Miko is a tribute to the first coloured owner Miko Rwayitare, who rebuilt the winery together with the partner Erwin Schnitzler after it was largely destroyed by fire in 2006. Mont Rochelle wines can be enjoyed not only at picnics or at the in-house restaurants, but also in the impressive 150-year-old wine cellar, whose charm creates the perfect atmosphere for an eventful wine tasting.
Mont Rochelle Winery has the complete package
Good wine, delicious food and excellent accommodation - no problem for Mont Rochelle. Richard Branson acquired Mont Rochelle in 2014, and since then it has been part of the exclusive Virgin Limited Edition collection, which is only available to particularly luxurious and selected hotels worldwide. All rooms and suites at Mont Rochelle are labelled with wine names, such as the Cap Classqiue Suite, which promises guests a private terrace with a private pool. From there, guests enjoy a picturesque view of the Danneberg Mountains, not least because the winery is located on a hill, which makes the panoramic view perfect. Mont Rochelle's wines harmonize perfectly with the award-winning Miko Restaurant, which focuses on seasonal South African specialties, and the Country Kitchen, where guests can enjoy a light lunch from fresh and sustainable produce. A visit to the Mont Rochelle Winery is always worthwhile, whether for a short ride on the Wine Tram or for a stay of several weeks - Mont Rochelle knows how to pamper its guests.

Sustainability and social support from Mont Rochelle
It is one thing to produce good wine and another to think about the environment. Mont Rochelle has for some time been striving for sustainability, both in the vineyards and in the hotel. One of the winery's main concerns is to comply with fair trade regulations and to switch from plastic bottles to glass bottles. Every guest visiting the winery has the opportunity to leave part of their suitcase empty, and to fill it with necessary things like school supplies, which the locals can benefit from. Mont Rochelle also supports the FRANCO program, which promotes social activities such as holiday programs and training for children or the development of soup kitchens.