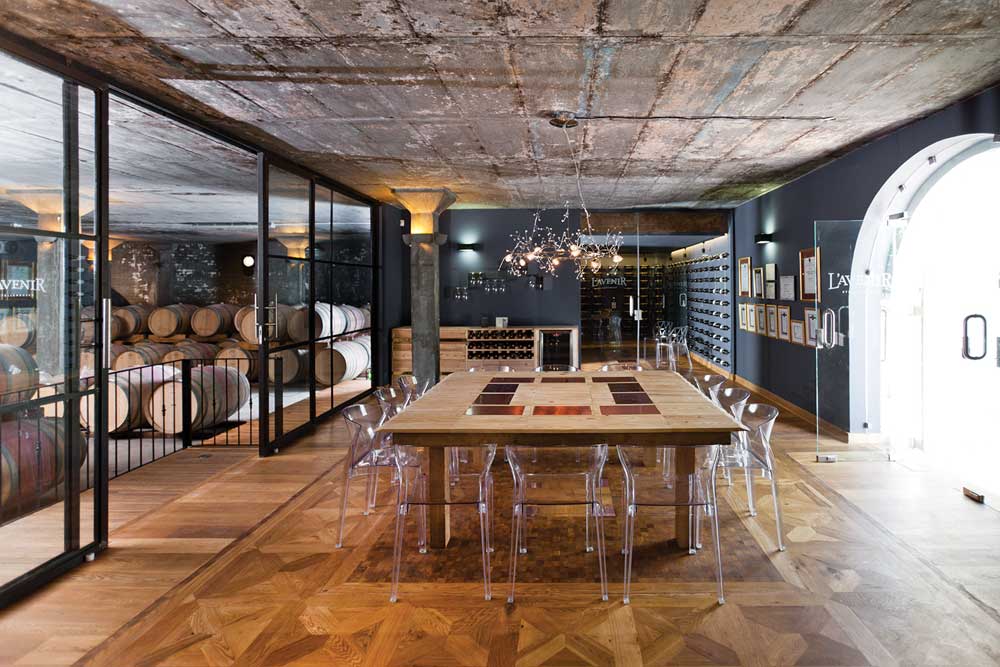 L´Avenir – specialist for South Africa´s national grapes
Located in the golden triangle between Franschhoak, Paarl and Stellenbosch, the winery L´ Avenir rich in tradition combines French flair with South African character. The boutique winery has specialized in the grape varieties Pinotage and Chenin Blanc and has already received many recognitions for its elegant creations that reflect their unique terroir. With the Glenrosé the first Pinotage Rosé of South Africa with grapes of a single vineyard has been created.
Vineyards Facts
Founding year

1992

Adress

L'Avenir Estate, Klapmuts Road, R44, Stellenbosch, 7599, South Africa

Acreage

12 hectares

Flagship wine

Single Block Range

Specials

L´Avenir Country Lodge, Pinotage Lounge exclusively for Pinotage tastings, Garden, Picnics, Riding, Mountainbiking, Helipad

Tasting Room

Mon-Sat: 10:00 - 17:00 h
Sun: 10:00 - 16:00 h

www.lavenirestate.co.za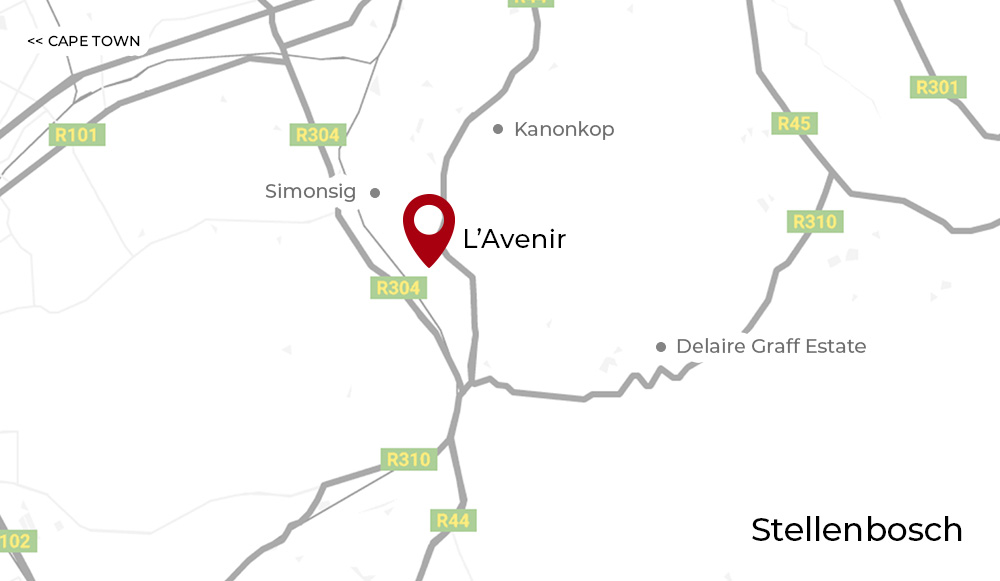 Dirk Coetzee
Dirk Coetzee studied at the Stellebosch University and has been chosen for the respected Golden Key International Honour Society. The winemaker gained precious experiences while harvesting in Australia, California and France. Since 2008, Dirk Coetzee is the winemaker of L´Avenir and constantly provides excellent wines. While doing so he is committed to the maintenance and care of old vines, especially Chenin Blanc. When it comes to newly defining the potential of modern Pinotage, Dirk Coetzee functions as one of the forerunners. With his mentor Francois Naudé, "the pope of Pinotage", Dirk specialized in location-specific and authentic wines from Stellenbosch. His vision for L´Avenir: to be the absolute leader for Pinotage from Stellenbosch.
L´Avenir - South Africa meets France
The winery L´Avenir was founded in 1992 and combines South African winemaking art with a touch of French flair. "L´Avenir" in French means "the future" and it belongs to the small boutique winery. In a special location between Franschhoek, Paarl and Stellenbosch, the grapes ripen in the best sunny location on 12 hectares of vineyards before being processed into great South African premium wines in the innovative wine cellar.
L´Avenir is more than just a winery
L´Avenir stands for premium wine from South Africa, but the winery also has a lot to offer beyond that. Visitors can spend the night at the Country Lodge in a luxurious ambience, relax and enjoy the view. The vineyard, which rises to over 1000 metres, is said to be one of the most beautiful vineyards in the world. In addition, L´Avenir is committed to environmental and social issues. The "Pebbles Project" supports socially disadvantaged families in education, health and nutrition.

Chenin Blanc and Pinotage from L´Avenir
L´Avenirs Winemaker Dirk Coetzee pursues the vision of producing the best pinotage from Stellenbosch. The winery specializes in the South African national grapes Pinotage and Chenin Blanc and creates outstanding wines that reflect the terroir. Inspired by the traditions of French winemaking, L´Avenir Wine combines a perfect symbiosis of old and new worlds! A very special flagship is the L´Avenir Glenrosé - the first South African Pinotage Rosé made from grapes from a single vineyard.