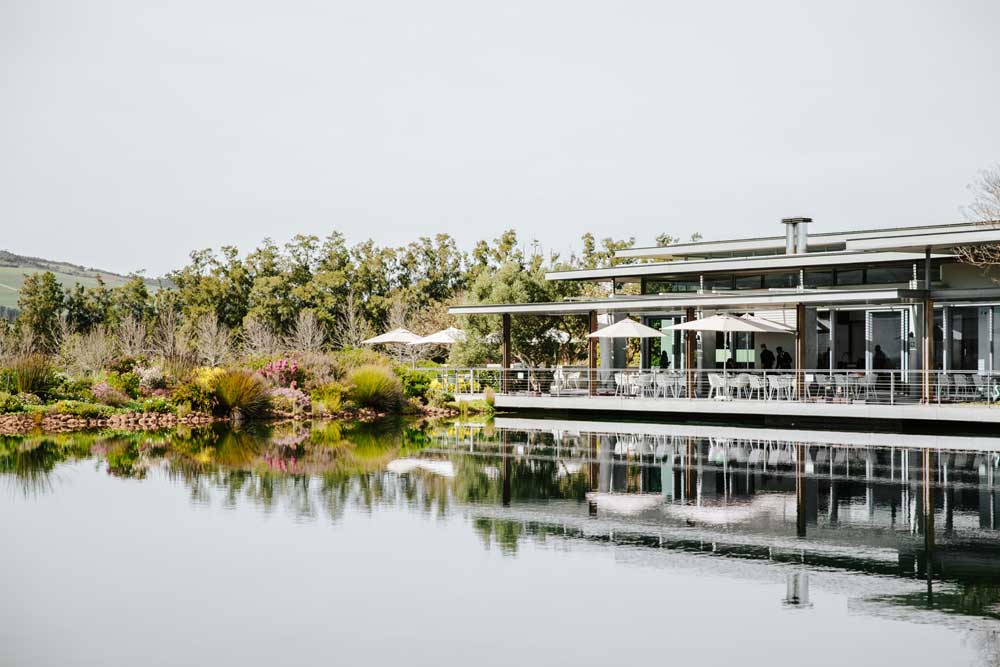 Cavalli - The fusion of passion for wine and horses
In the picturesque vineyards of Stellenbosch lies the modern Cavalli Winery, where the love of wine-making and the fascination for horses meet. Excellent wines that enchant the senses are created here. Experience a unique atmosphere at a wine tasting, surrounded by the estate's elegant horses. An art gallery and a restaurant contribute to making a visit to Cavalli an unforgettable experience.
Vineyards Facts
Founding year

2008

Adress

Cavalli Estate, R44 Highway (Strand Road), Somerset West, South Africa

Acreage

26 hectares

Flagship wine

Cremello and Warlord

Specials

Equestrian facility, stable tours, Art Gallery, Boutique Shop, picnic, Cavalli Restaurant

Tasting Room

Wed-Sun: 10:00 - 18:00 Uhr

www.cavalliestate.com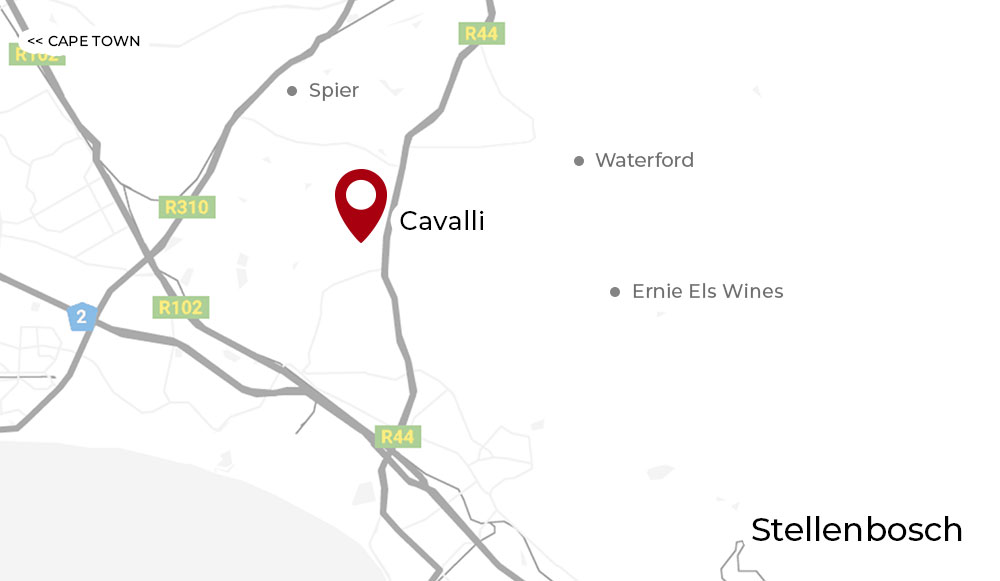 Rianie Strydom
Rianie Strydom has been a winemaker at Cavalli since August 2023. From the age of 13, she knew she wanted to pursue a career that would combine her interest in chemistry and her love of nature. After graduating from Stellenbosch University, Rianie gained numerous experiences in Europe, America and Australia. Today she is a member of the Cape Winemakers Guild and is one of South Africa's top winemakers. Rianie Strydom simply loves making wine, she finds the energy in and around the winery exciting. She sees a winemaker as a guardian between the planting of the vine and the bottling of the wine, respecting what grows in nature, nurturing it and developing from it something that can be enjoyed by all.
Cavalli wines - passion and perfection as far as the eye can see
The Cavalli Winery has become a unique lifestyle brand in South Africa and works with absolute passion and perfection in every possible area. Anyone visiting the Cavalli Wine Estate in Stellenbosch, can look forward to an art gallery, a luxury boutique, a modern stud farm, an exclusive restaurant and, of course, incomparable South African wines. The modern winery is located at the foot of the Helderberg in Stellenbosch and covers over 100 hectares of land, 26 of which are planted with vines. The terrace of the new wine tasting facility offers a fantastic view of the water of the onsite pond and the surrounding South African mountains and creates a unique atmosphere during the wine tasting of premium wines of South Africa. The Cavalli Winery knows how to combine its two absolute passions, so the love for noble four-legged friends is not only reflected in the name Cavalli ("horse" in Italian), but also in the entire wine assortment.
Cavalli Winery - a heart for horses and good wine
World-class wines with an exceptional and unique local character. Clay soils and a fresh sea breeze from the South Atlantic create elegant and particularly fruity Cavalli wines. One of the teams secrets is to pick his grapes by hand early in the morning to preserve their freshness and crunchy texture, thus creating very special terriors specific wines. The preferred grape varieties Cabernet Sauvignon, Malbec, Petit Verdot, Chenin Blanc, Chardonnay and Verdelho are used to create complex and expressive wines. The two flagship wines are the Cremello, a white wine blend with notes of vanilla and honey, and the Warlord, a red wine blend with aromas of currants and tobacco. Both top wines matured in French oak barrels and reflect the elegance of the stylish winery.

Cavalli Winery - Cape Floral Kingdom
The Cavalli Winery sees itself as a great holistic concept, in which plants, animals and people act in harmony and mutual exchange. In addition to sustainable wine production, Cavalli also offers beautiful gardens with ten hectares of native plants, trees and flowers. This vast ecological zone is home to 60 different species of birds, butterflies and chameleons. The landscape designed by Keith Kirsten is an evolving carpet of colour, full of life and in constant change. Cavalli combines modern architecture with sustainable design. The result is a building that is also known as a "green wall". Stones and meadow adorn the walls of the building, forming a vibrant mural and contributing to a beautiful overall picture. One thing is clear - Cavalli is a place to enjoy and feel good.