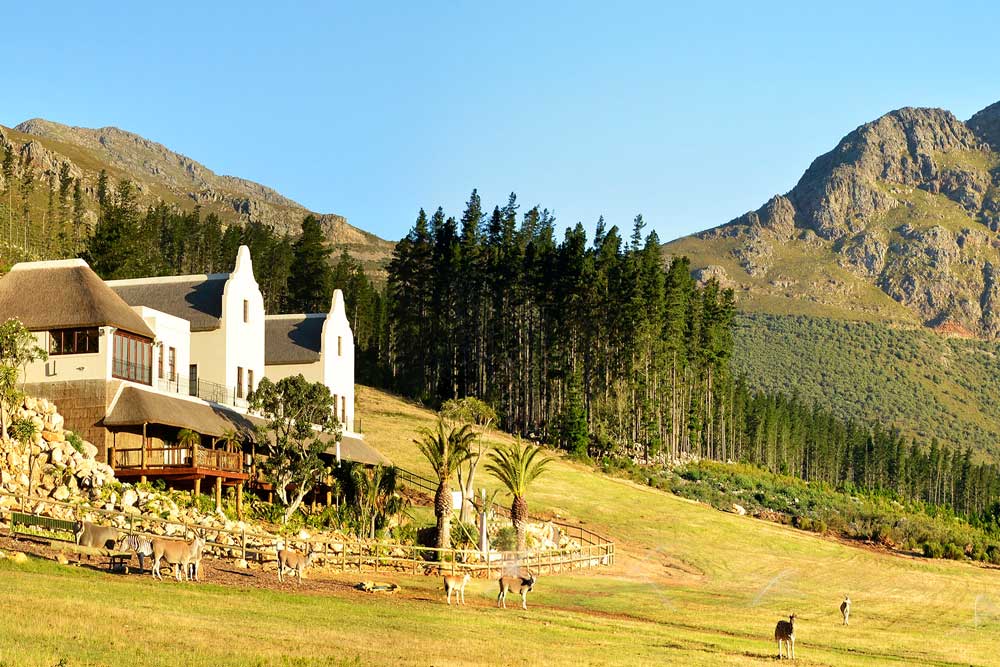 Chamonix – High in the Mountains of Franschhoek
The Chamonix winery is located in Franschhoek and features some of the highest vineyard locations at the Cape. On this estate that is approximately 300 hectares, about 50 hectares of them are cultivated with vines. This location benefits from outstanding clay soils and cool winds during hot summer months. The wines from Chamonix excite with a distinctive profile that is achieved by as little intervention in the cellar as possible and very sustainable cultivation methods.
Vineyards Facts
Founding year

1991

Adress

Chamonix, Uitkyk Street, Franschhoek, 7690, South Africa

Acreage

50 hectares

Flagship wine

Chamonix Troika

Specials

Accomodation & Lodges, Game Reserve, Restaurant Arkeste

Tasting Room

daily: 10:00 - 17:00 Uhr

www.chamonix.co.za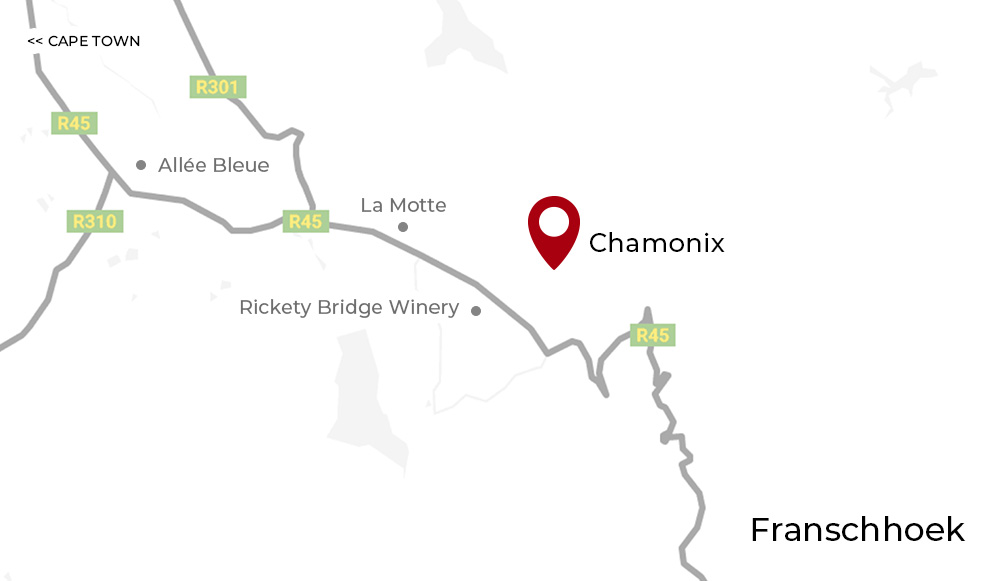 Neil Bruwer
For Neil Bruwer, returning to Chamonix was like returning home, knowing the vineyards and cellar from his time as a junior winemaker. He then gained further experience at other wineries in South Africa, Australia and the USA before returning to Chamonix as head winemaker in the summer of 2019. In his new position, Neil will continue to focus on Pinot Noir and Chardonnay - the grape varieties for which the winery is best known - but is also looking forward to extending this quality to Cabernet Franc, Pinotage and Chenin Blanc.
Chamonix – A Thoroughly Relaxing Place
Chamonix is located above the picturesque Franschhoek Valley in the heart of the Cape Winelands. The South African winery offers its visitors untouched nature, an exquisite site as well as a stronghold of culinary delights. Or you start from the winery and visit the enchanting place Franschhoek close-by and fall for its unique charms. Chamonix is home to various accommodation options – it is not easy to choose between the Forest Suites close to the forest edge, the Waterfall Lodges next to a waterfall or the Marco Polo Lodge.
Culinary Delight and Wine Cellar Tours at Chamonix
Visitors can treat themselves in the Arkeste restaurant with culinary delights – a glass of Chamonix wine completes the experience whilst they overlook the picturesque surroundings. Wine friends can try various South African wines in the Blacksmith's Cottage whilst enjoying a light meal and also go on an exciting tour through the underground wine cellar.

Chamonix Relies on Nature
The 50 hectares of vineyards of this South African winery Chamonix are at the highest altitude in the Cape Winelands. The team around winemaker Niel Bruwer believes that a wine develops its true character best when nature is the dominating 'winemaker': grand wines are created on the vineyard! The estate benefits from the cool breezes during the hot summer months and a stony soil containing clay which gives the wine its unique character and style. The philosophy of a minimal intervention and an environmentally friendly cultivation seem to be the secret recipe of Chamonix because many wines have been awarded several times and are sought-after all over the world.