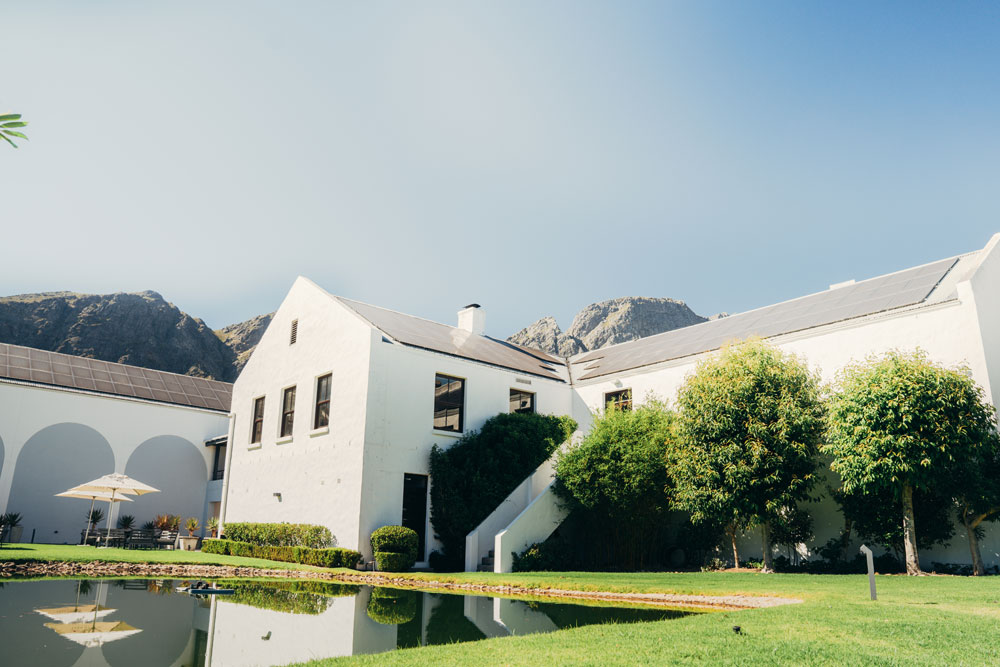 Holden Manz – Art and Cuisine in its Most Beautiful Form
Everyone who has visited the Holden Manz winery in Franschhoek knows how well modern art and functionality of a winery can be brought in harmony and all this under the roof of the classic Cape Dutch architecture. Full-bodied, clearly structured, intense and with fine nuances are the wines from Holden Manz in the glass and on the palate. Just like the labels, every wine is a piece of art in itself and invites to sit and philosophise.
Vineyards Facts
Founding year

2010

Adress

Holden Manz, Green Valley Road, Franschhoek, 7690, South Africa

Acreage

16 hectares

Flagship wine

Big G

Specials

Franschhoek Wine Tram Station, picnic area, 5-Stars Guesthouse, Spa

Tasting Room

daily: 10:00 - 17:00 h

www.holdenmanz.com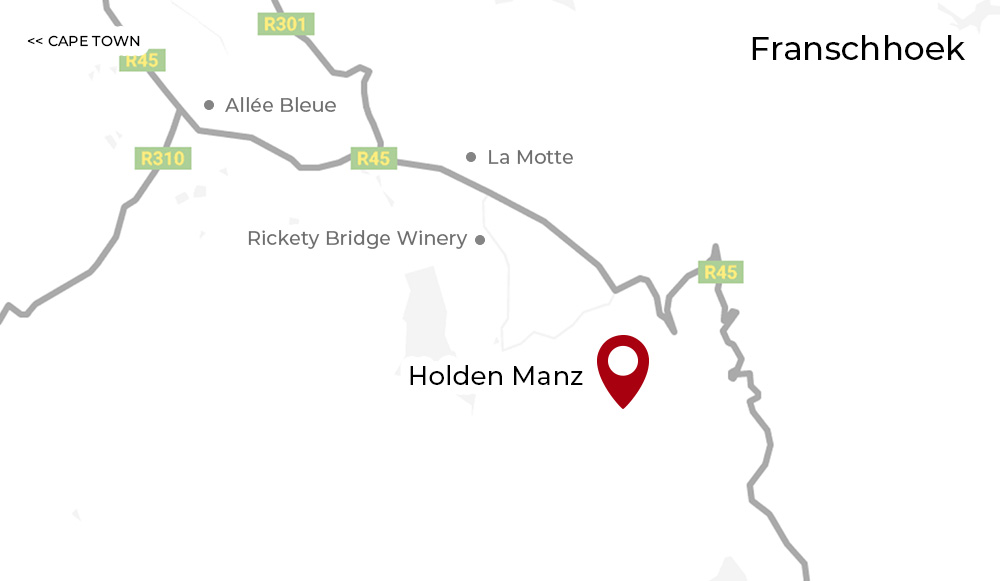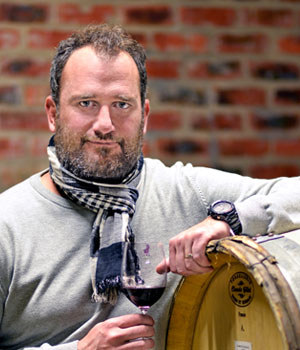 Thierry Haberer
Thierry Haberer has been producing wine for more than ten years – and he has done so around the globe. His roots go even further back though because his grandfather has worked as a winemaker in Morocco before he went to Corsica where he is still active and working today. Thierry followed in his footsteps and studied oenology at the University of Bordeaux where he graduated in 2004. Afterwards, he gained international experience at the Anthonij Rupert winery in South Africa as well as in the United States and Bulgaria. In 2008, Thierry teamed up with Michel Rolland, one of France's best and most-renowned wine cultivation advisors, for some time. Yet some years later his love for the country with its various terroirs drew him back to South Africa. His passion for high-quality wine, combined with the gentle care of the harvested grapes, is expressed in every single bottle. With his quality standards and urge for innovation, Thierry Haberer researches the potential of soil and grapes alike in order to set new standards for the Holden Manz range.
The luxurious Holden Manz Winery
The luxurious Holden Manz winery is situated in the picturesque Franschhoek Valley and was founded in 2010. Less than an hour's drive from Cape Town, they know how to give visitors an unforgettable stay. Gerard Holden and Migo Manz are the founders of Holden Manz and give the estate its name. The British-German team set out to offer excellent South African wines in an exclusive atmosphere. This philosophy ensures that Holden Manz has become a first-class wine estate.
The Holden Manz Big G is the Flagship of the Estate
Thierry Haberer is responsible for wine production at Holden Manz and expresses his passion for wine in every bottle. Every year, first-class Holden Manz wine is produced this way, which also enjoys a good reputation on an international level. The estate has a diverse portfolio of top-quality products, which have often been awarded several times. The Holden Manz Visionaire, the Holden Manz Syrah and the Holden Manz Big G, which is at the same time also the flagship of the estate, have already been awarded prizes by John Platter.

Franschhoek Kitchen is a Culinary Hotspot at the Cape
In addition to the first-class wine, the winery offers a luxurious 5-star guest house which fascinates visitors with its Cape Dutch architecture and stylish interior design. No one easily forgets their stay in one of the four rooms. Guests can also visit the winery's own spa and Franschhoek Kitchen restaurant. This restaurant is a true hotspot on the African continent and offers absolutely high-quality gourmet cuisine with ingredients from its own vegetable and herb garden.