Warwick – Ecological cultivation for best quality
Warwick is regarded as one of the best Boutique wineries of South Africa, as evidenced by the high quality and great taste of a Trilogy or First Lady. The winery is a member of the Biodiversity & Wine Initiative and builds on ecological cultivation to produce the best berries. At a relaxed picnic, visitors at Warwick can enjoy both nature and excellent wine.
Vineyards Facts
Founding year

1964

Adress

Warwick Wine Estate, R44, between Stellenbosch and Klapmuts, 7607, South Africa

Acreage

70 hectares

Flagship wine

Trilogy

Specials

Big 5 Vineyard Safari, gourmet picnic, bistro
Tasting Room

daily: 09:00 - 17:00 h

www.warwickwine.com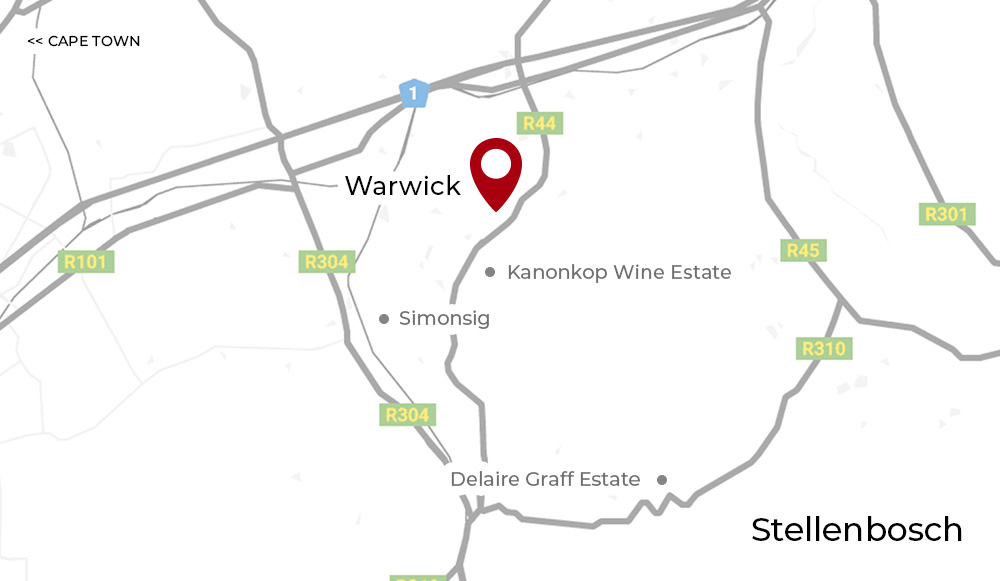 JD Pretorius
JD Pretorius has been part of the Warwick team since 2019. After eleven years with Steenberg in Constantia, he is delighted with his new position as a winemaker in Stellenbosch and in particular with the opportunity to discover the various slopes and locations at Simonsberg. The wines from JD Pretorius are fresh and well-balanced, the maturation in oak or the use of other cellar techniques should only play a supporting role so that the character of the grapes can unfold. One of JD Pretorius' favourite grape varieties is Cabernet Franc, which is also of great importance to Warwick, and JD is pleased to be able to work with the grape variety on a larger scale.
Warwick Estate with premium wine from Stellenbosch
Situated on the northern border of the Stellenbosch wine region, along the slopes of the Simonsberg Mountain, Warwick Wine Estate has a long track record of producing some of South Africa's finest and most acclaimed wines. Red varieties are at the centre of Warwick's focus, embodied in iconic wines like Trilogy, The Blue Lady Cabernet Sauvignon and single varietal Cabernet Franc and the Cape Blend Three Cape Ladies. The estate also produces several highly-rated white wines such as The White Lady Chardonnay and Professor Black. The "First Lady" range immortalises the legacy of Norma Ratcliffe - one of the Cape's first female winemakers - who guided Warwick to acclaim since producing the estate's first wine in 1984.
Warwick Estate - a winery with tradition
The history of the winery dates back to 1771. Warwick owes its rise to an internationally renowned winery in particular to the Ratcliffe family. Norma Ratcliffe was one of the first women to work as a winemaker. She studied wine making and began to create wines from the excellent Cabernet Sauvignon vines. There followed not only great success for the Warwick wines. Norma Ratcliffe was also rewarded for her efforts and became the first woman to join the Cape Winemaker Guild. Meanwhile, the winery Warwick belongs to Charles Marston and Kishore Boperdikar. They want to further promote the international success of Warwick wines and expand wine production by purchasing neighbouring vineyards.

Experience Warwick Wine
The Warwick Winery is a member of the Biodiversity & Wine Initiative and environmental awareness is a top priority here. This partly natural environment can be enjoyed at a picnic with wine. Local plants and trees are planted here every year to preserve the fauna and flora. In addition to tastings of their award-winning range of wines, Warwick offers guests picnics in a tranquil, relaxed setting on the lawns or shaded by the trees of our forest courtyard. Warwick's picnic menu revolves around fresh and seasonal ingredients, sourced locally from artisanal suppliers, including a variety of options for vegetarian and vegan visitors.